Is for children aged 3-5 years. We have 2 large well resourced rooms and and a naturally inspiring outdoor garden area.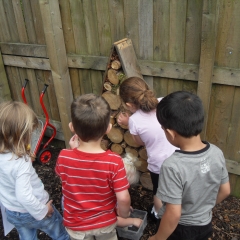 Here we have everything on site for a total learning environment. We have a large soft surface area for trikes ,balancing ,running and jumping.
A garden area for growing and planting ,sand sheds , forest area ,water channels………..
Inside we have sand, water ,malleable , painting and workshop resources.